Participant and Family Testimonials
Learn more about our services from our patients and their families.
Arthur's Story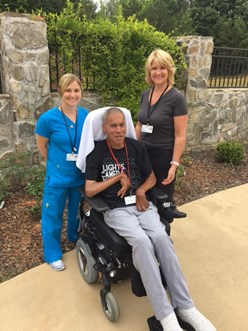 In 2011, after an accident and some medical complications, Arthur found his life changed forever. After his initial post-injury hospital stay, Arthur went home to be cared for by his family. He received post-injury therapy at home, but this
was discontinued after his insurance source said he met his "maximum potential." Over the next three years, he spent
90 percent of his days in bed.
That was until January 2015, when Arthur, 60, enrolled in PACE at Randolph Health StayWell Senior Care in Asheboro. Since joining the program, Arthur has set goals for himself with the help of StayWell therapy services. He attends the PACE center five days a week, where he can be found in the gym, socializing with staff and other participants or quietly enjoying the sunshine outside. When asked where he would be without the PACE program his response is simply "at home, staring at the walls."
PACE provides Arthur with a sense of independence. It also provides his wife with the support she needs to continue caring for her husband at home. "It is nice to know someone is taking care of him and giving him the care he needs," she said.
She describes her husband as a man of few words who seems to have found his voice through PACE. She has seen overall improvement in her husband. Most importantly, she feels he is finding a "new normal" that is much better than him spending his days in bed.