Participant and Family Testimonials
Learn more about our services from our patients and their families.
Arthur's Story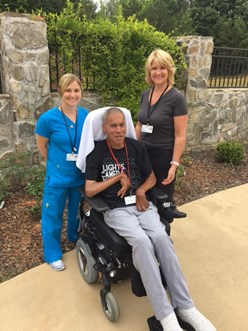 In 2011, after an accident and some medical complications, Arthur found his life changed forever. After his initial post-injury hospital stay, Arthur went home to be cared for by his family. He received post-injury therapy at home, but this
was discontinued after his insurance source said he met his "maximum potential." Over the next three years, he spent
90 percent of his days in bed.
That was until January 2015, when Arthur, 60, enrolled in PACE at Randolph Health StayWell Senior Care in Asheboro. Since joining the program, Arthur has set goals for himself with the help of StayWell therapy services. He attends the PACE center five days a week, where he can be found in the gym, socializing with staff and other participants or quietly enjoying the sunshine outside. When asked where he would be without the PACE program his response is simply "at home, staring at the walls."
PACE provides Arthur with a sense of independence. It also provides his wife with the support she needs to continue caring for her husband at home. "It is nice to know someone is taking care of him and giving him the care he needs," she said.
She describes her husband as a man of few words who seems to have found his voice through PACE. She has seen overall improvement in her husband. Most importantly, she feels he is finding a "new normal" that is much better than him spending his days in bed.
Manu's Story
Edited from an article in the The Courier-Tribune in Asheboro, NC, which published on 4/2/16.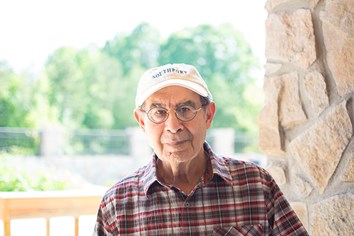 Manu, 79, has Alzheimer's Disease, the most common form of dementia. When he does speak, it is just a word or two – maybe three. But he still gets joy out of life. He laughs and hums and frequently uses hand gestures to try to communicate.
"I think he knows me," his wife, Joan, said. "We haven't had a conversation in a real long time. I long to hear that voice."
Joan wants to keep her husband at home, but it is difficult to be a full-time caregiver for someone with such expansive needs. "I know he's still there. I feel it," Joan says. "I don't see fear at all. He's still embracing life like he always did, but what he can do is less."
Joan tries to keep him connected to his old life, but keeping him at home was getting more and more difficult. "I was crying a lot," she said.
Then she found help through StayWell Senior Care in Asheboro, which received start-up funding from Randolph Health, Cone Health and Hospice of Randolph County. The PACE-certified program opened in late 2014.
Manu has been in the StayWell program for a little more than a year. Three days a week, a van picks him up and takes him to the StayWell facility. A StayWell Certified Nursing Assistant (CNA) comes to his home for a few hours on another day.
That frees Joan for more than 20 hours a week to clean house, to prepare meals, to run errands — or to do nothing — and leaves just three days a week when she has around-the-clock caregiver duty. "Being focused on something else other than the caregiver aspect of my life has helped me be a better caregiver, too."
"He's a gentle soul," Joan said of her husband. "He's a wonderful, beautiful man, unique, not like anyone you've met or will ever meet. The last place I wanted him to be was in a nursing home. I wanted to keep him home where he had a connection, where he could be Manu."