Billing and Insurance
Count on Randolph Health to make paying for your care as easy and convenient as possible.
After you return home from the hospital, you'll receive a statement of charges and bills from the hospital, your physician and others who provided medical services during your hospital stay. If you're concerned about your ability to pay your bill, learn about our options for financial assistance.
Pay Your Bill Online
Learn how to pay your Randolph Health bill online.
Pay Via Patientco
Randolph Health recently partnered with Patientco - a secure, online health care payment system - to make it easier for you to view, understand, manage and pay your medical bills.
Use the unique SecureHealthCode located on your billing statement (see example below), to sign into your Patientco PatientWallet and pay your bill online.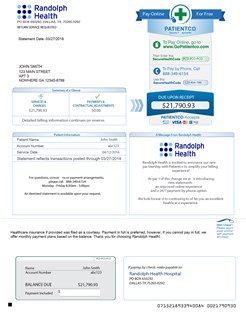 Pay An Older Randolph Health Bill
If you have one of the older Randolph Health bill (see example below). Use the account number listed on the billing statement to sign into our secure online payment systems and pay your hospital bill.