Awards & Recognition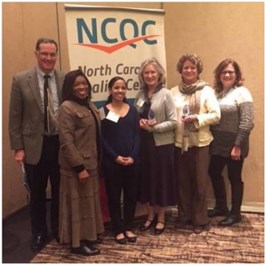 Randolph Health's Patient and Family Engagement work has received statewide recognition with two awards. The North Carolina Hospital Association in partnership with the NC Quality Center recognized Joan Arasta with the "Outstanding Patient and Family Advisor" award. In addition, the "Randolph Health Orthopedics & Sports Medicine "Wow Team", that worked to improve the orthopedic surgery patient's overall experiences starting in the office setting, was recognized with the "PFAC Impact Award".
Staff Engagement Award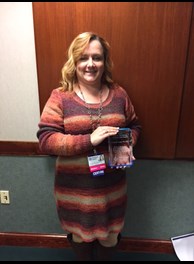 The Patient and Family Advisory Council works in partnership with the leadership and clinical staff of Randolph Health to create an environment of patient and family-centered care across the entire system.
As a way of recognizing those many efforts underway at the health system, the PFAC created a special award to be given out each year to a team member who impacted patient and family engagement at Randolph Health and engaged and collaborated with patients and families to improve quality, safety, the patient experience or patient outcomes. Congratulations to Chanda Casey, RN, MASU, Clinical Informatics, for receiving the inaugural award.