Golf Classic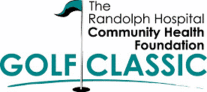 Rain or shine, the first Friday in October is Randolph Health Community Foundation Golf Classic Day, a fundraising tournament that has quickly become a must-play event. This top-rated tournament is played at Pinewood County Club—one of the best private golf courses in the region. Business North Carolina magazine named Pinewood Country Club "the leading hidden gem in the Piedmont area." Both the U.S. Senior Open Qualifier and the ACC Women's Golf Championship have been held at Pinewood Country Club.
The day begins at 11 a.m. with a made-to-order grilled lunch on the patio for each player and unlimited range balls to warm up for an afternoon on the links. Tournament play begins promptly at 12:30 p.m. with a shotgun start and is played in the Texas-T format. Each player drives his or her ball. After the best drive has been selected, each player will play his or her own ball the remainder of the hole.
At the end of the day, golfers gather on the patio for complimentary drinks and hors d'oeuvres while they await announcement of the prize winners. With 26 teams in the tournament and six team prizes awarded, each team has a very good chance to win a prize.